I am presently making preparations for my first exhibition of camera-phone photographs.
The exhibition will take place at the Arena gallery in Liverpool and will be on for 3 weeks starting on Saturday 13th August.
Not only will this exhibition consist of my own collection of photographs, order but you too can play a part in it's evolution. Alongside my photos there will be a projector and a computer equipped with bluetooth. If you are attending the exhibition you will be able to bluetooth your photos to the computer and see them on the gallery wall instantly. A truly interactive, technology fuelled, artistic experience.
I am very excited about this as you can imagine and I want to thank everyone for all your submissions and comments to this site over the last year. I am sorry that I've had to stop accepting comments on the site, but I was recieving an uncontrollable amount of spam, so sorry about that. Special thank you to Jonathan for hosting the site in his inimitable way.
See you in Liverpool.
Damien.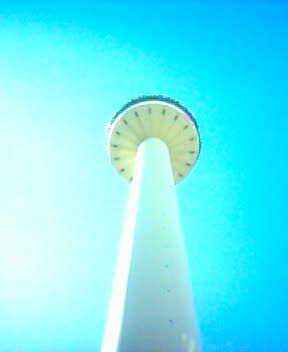 The exhibition opening was a resounding success.
Most people seemed to enjoy my photos and a great many people uploaded their pictures to the gallery wall.
I returned to the gallery on Saturday to check that the bluetooth computer was still functioning and the curator told me that it was already the most successful exchibition they'd ever run.
If you're interested and you find yourself near Liverpool, gynecologist there is still time to check it out.
The exhibition takes place at the Arena gallery, 82-84 Duke Street, Liverpool until Saturday 3rd September.
This picture is the tower in the centre of Liverpool. It's one of those things that used to be a rotating restaurant.
"If you're like me the camera function on your mobile phone will only be used in two specific instances: either to take pictures of your partners breasts or dwarfs using cash machines, price then the Low RESOLUTION exhibition is an absolute revelation.
Low RESOLUTION is a collection of images captured over the last two years by Damien Wasylkiw using a basic Sony Ericsson T610 camera phone. What, on paper at least, sounds odds on favourite to disappear up its own arse, turns out to be an illuminated scream of 21st century life.
The fifty photographs displayed as phone screen sized prints focus on the urban, scratchy and illuminated with whiplash lighting. The theme of transience and movement dominates. It's like circumnavigating every town – escalators, shop fronts, graffiti, steel, concrete, flesh – but somehow finding poetry in the mundane.
The second part of this exhibition allows the public to contribute images from their own photographs, which are then repeated on a screen on an endless loop. This interaction element doesn't quite work and simply illustrates just how perceptive Wasylkiw's work really is."
Ian Nightingale, Blowback Magazine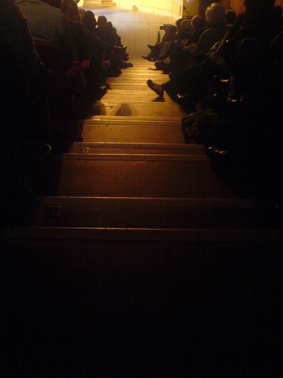 If you are lucky enough to attend the Royal Television Society Conference this year, not only will you have the joy of meeting Jon Snow, Michael Grade, Greg Dyke and Tesssa Jowell, but you will also be able to take part in another of my Bluetooth installations.
This year I'll be running around taking camera-phone photos of various abstract aspects of the conference and displaying them in the foyer. The photo above was taken with the new Sony Ericsson K750. It's a bloody awesome camera phone with a ridiculous 2 MegaPixel resolution. At first the autofocus and autowhite balance feature really annoyed me because it takes ages to take a photo, but I found a way around it eventually.
For more information about the RTS conference click here.
OK, we all knew this time would come.
My T610 is falling apart and I've got one of those new Sony Walkman phones, the W900i.
It's big; it's pretty hideous and it takes very good photos indeed. It's basically a camera with a phone slapped on the side. So, we have a problem don't we? No longer and I going to be able to take beautiful low resolution photos. This much is true, however, the phone also has the ability to record video…and the video is still pretty nasty and compressed…perfect.
long live lowRESOLUTION.
In order not to annoy Jonathan by using all his bandwidth I'll be hosting the videos over at vimeo.com .